Chinese Geographers' Responses on COVID-19
2020-11-04 15:41:13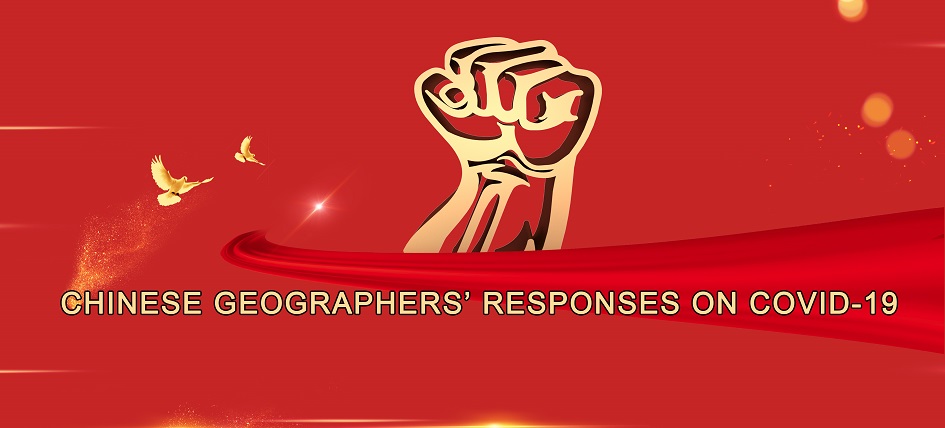 Since the beginning of 2020, the novel coronavirus has begun to widespread across the globe. It led to a sudden economic crisis to the global society and posed a big threat to people's life and security. In defeating the COVID-19, Geographical Society of China (GSC) and Chinese geographers have contributed numerous efforts during the challenging time in the following aspects.
1. Strengthen communication on epidemic prevention knowledge to the public
After the coronavirus outbreak, China Association for Science and Technology (CAST) and CAST Alliance for Ecological and Environmental Sciences and Industry (CAEESI) have initiated three proposals, calling upon the scientists to contributed their efforts to the combat. GSC forwarded the proposals on its public account and called on all members and geographers to take actions. On January 31
st
, GSC started to publish on its Wechat account a series of daily map reports analyzing the epidemic situation developed by the team of Prof. Chenghu Zhou from Institute of Geographic Sciences and Natural Resources Research, Chinese Academy of Science (IGSNRR,CAS). As of April 15
th
, 45 articles related to the epidemic situation including proposals on combat with coronavirus, daily map report, case study, research report, online courses, etc have been published on GSC social media account.
2. Conduct relevant research and serve the government policy-making
During the critical period, Chinese geographers made full use of professional skills and knowledge and made various efforts on research and knowledge popularizing.
Geographers have completed hundreds of reports in defeating with the virus. These reports played an import role in disease prevention and control and work resumption and have been highly valued by the governments at all levels. GSC Commission on World Geography, Commission on Population Geography have submitted two reports to CAST: Suggestions on Strengthening International Cooperation on Novel Coronavirus Prevention and Control and Suggestions on Promoting Data Collection of Normalized Community Population. A number of articles have been published on the reputable journals, such as:
1) Bojie Fu and his team, 2020. A Systemic Approach is Needed to Contain COVID-19 Globally,published on Science Bulletin.
2) Li, GS, Xie, HC, and FH Chen, 2020. Spatiotemporal Change of China's Epidemic Disasters and its Relationship with Human Living Environment over the Past 2200. Published on Science China: Earth Sciences, Sciences, https://doi.org/10.1007/s11430-020-9608-x;
3) Chaolin Gu and his team, 2020. Inflection Point about COVID-19 May Have Passed, published on Science Bulletin
4) Li J, Li J J, Xie X, Cai X, Huang J, Tian X, Zhu H. 2020. Game Consumption and the 2019 Novel Coronavirus, published on Lancet Infect Dis, 20: 275–276.
5) Chenghu Zhou, COVID-19: Challenges to GIS with Big Data published on Geography and Sustainability.
6) Tian Huaiyu, An Investigation of Transmission Control Measures During the First 50 Days of the COVID-19 Epidemic in China, published on Science
Prof. Chenghu Zhou and his team carried out research to support the decision on spatial epidemic prevention and control by using big data and GIS. They published daily epidemic dynamic map, implemented a plenty of research programs such as national population mobility estimation, spatial prediction of epidemic scale, division on the epidemic risks of geographical regions, discovery on medical resources shortage, etc. Prof. Yansui Liu and his team developed "COVID-19 Dynamic Monitoring System for National Prevention and Control". Prof. Suhong Zhou and her team also developed a mobile phone application to track the epidemic areas.
3. Establish communication with international scientific organizations, share and exchange information on the epidemic, enhance international cooperation to jointly tackle with the virus
Since the coronavirus outbreak, information on the epidemic situation has been shared and exchanged timely among geographical institutions and geographers from home and aboard and joint efforts have been made on tackling with the disease.
In mid-February, the Geographical Society of China has addressed letters to International Geographical Union (IGU) as well as a dozen of foreign geographical societies, such as American Association of Geographers, Royal Geographical Society (with IBG), Russian Geographical Association, Société de Géographie, Association of Japanese Geographers, Korean Geographical Society, National Association of Geographers, India, Kazakhstan National Geographic Society, Turkish Geographical Society, Geographical Association of Thailand, Romanian Geographical Society, etc to call for joint efforts from international community to fight against epidemic. The letters reported on the extremely difficult situation under the COVID-19 epidemic and the various efforts to overcome it in China and showed the willingness to remain in close communication and coordination with international scientific community, and to strengthen international cooperation in epidemic control to jointly protect lives and health of people and uphold global public health security. Then IGU Executive Committee considered the message very timely and important, and forwarded it to all the Chairs of IGU National Committees, Commissions / Task Forces, hoping that it be disseminated widely and responded quickly.
Meanwhile, GSC also submitted various achievements made by Chinese geographers to IGU, such as COVID-19 Dynamic Monitoring System for National Prevention and Control (International Version) developed by the team of Prof. Yansui Liu, the report COVID-19: Challenges to GIS with Big Data by the team of Prof. Chenghu Zhou and Prof. Fenzhen Su and soon these reports were distributed to the IGU community. To support communication on fighting the coronavirus and relevant international cooperation, the GSC has co-sponsored the website "COVID-19 Knowledge and Data Hub" headed by Prof. Chuang Liu and provided support on its planning, organizing and service.
(GCdataPR_COVID-19_KDH http://www.geodoi.ac.cn/covid-19/en/index.aspx). On behalf of CAST and China Global Television Network (CGTN), GSC invited Prof. Thomas Krafft, Co-chair of IGU Commission on Environment and Health, to join the live streaming on "Uniting Through Science – COVID-19 Front Line" on CGTN. In the TV programme, Prof. Krafft discussed the latest scientific development amid the global battle with the COVID-19 pandemic together with experts and scholars in relevant fields from other countries.
4. Ensure teaching order, promote work and school resumption
In response to the national call, geographers worked at home by means of online teaching and online meetings. For example, the team of third-party assessment on the effect of targeted poverty alleviation in China, consisting of more than 1700 experts and scholars from 22 universities and institutions nationwide, has successfully completed the assessment task in 2019 in two months in despite of the serious impact of the epidemic. Editors of geographic journals stuck to their posts during the epidemic to make sure the journal would be published on time.
In order to ensure the stability and teaching order of higher education during the epidemic, GSC worked together with Geography Teaching Steering Committee of Institutions of Higher Learning of the Ministry of Education and jointly initiated "Proposal on Making Full Use of Online Teaching Resources to Carry Out Teaching Activities during the Extended School Opening Period by Geography Teaching Steering Committee of Institutions of Higher Learning of the Ministry of Education", which provided guidelines to colleges and universities across the country to overcome the impact of the epidemic and to carry out online teaching and learning.
(Provided by the Geographical Society of China)