2022 International Science and Technology Innovation Conference on Green Development Held Online
2022-08-25 23:27:10
Sponsored by the China's Association for Science and Technology (CAST), the 2022 International Science and Technology Innovation Conference on Green Development was held online on July 6th, 2022.
As one of the five sections of the Conference, co-organized by the Geographical Society of China (GSC), Institute of Geographic Sciences and Natural Resources Research, Chinese Academy of Sciences (IGSNRR, CAS), Government of Wozhong City, Ningxia Hui Autonomous Region of China, University of Ningxia, Session 5 – Meeting on Green Agriculture - Geographical Indications Environment and Sustainability was held online on June 30th, 2022.
The session was chaired by Prof. Guoyou Zhang, Vice President & Secretary General of the GSC. Firstly, he introduced the invited guests and keynote speakers. The opening ceremony began with two welcome speeches, respectively by Prof. FU Bojie, Chairman of Supervisor Board of GSC, Academician of Chinese Academy of Sciences, and Mr. MA Tongsong, Deputy Mayor of the Wuzhong City, Ningxia Hui Autonomous Region of China. Then, a video was played to demonstrate the beautiful and ecological industry of Wuzhong City. The video was followed by three keynote presentations on the topic of International Science and Technology Innovation on GI Environment & Sustainability, which were: "GIES and IP: Methodology of Science and Technology for Geographical Indications Environment & Sustainability with the Intellectual Property" made by Prof. LIU Chuang, Professor of IGSNRR, CAS, "Regional Implementation in Asia and Pacific of FAO OCOP Program" made by Dr. Xuan Li, Senior Policy Officer and OCOP Regional Lead FAO Regional Office for Asia and the Pacific, and "Agri-ecological Condition of Pomegranate Cultivation and Sustainable Production of Pomegranate Juice in the Regions of Azerbaijan" made by Dr. Mirnuh Ismayilov, President of Azerbaijan Geographical Society and Dr. Emil Jabrayilov, Executive Committee member of Azerbaijan Geographical Society.
At last, two cases and practices were shared with the participants. One was "Green Development based on the geo-bio diversity of Panshi City in Jilin Province of China", presented by Mr. YU Jiqu, Secretary of the CPC Panshi City Committee and Member of the Standing Committee of the CPC Jilin Province of China, the other was "Traceability Technology and Standardization of Yanchi Tan Sheep Arid Grassland Case on Ecosystem Protection and Sustainable Development", introduced by Dr. WU Genghong, Marketing Manager of Yanchi Tan Sheep Group of Ningxia.
In conclusion, Prof. LIAO Xiaohan, Director of GSC Working Committee on Geographical Big Data made a brief summary of the meeting.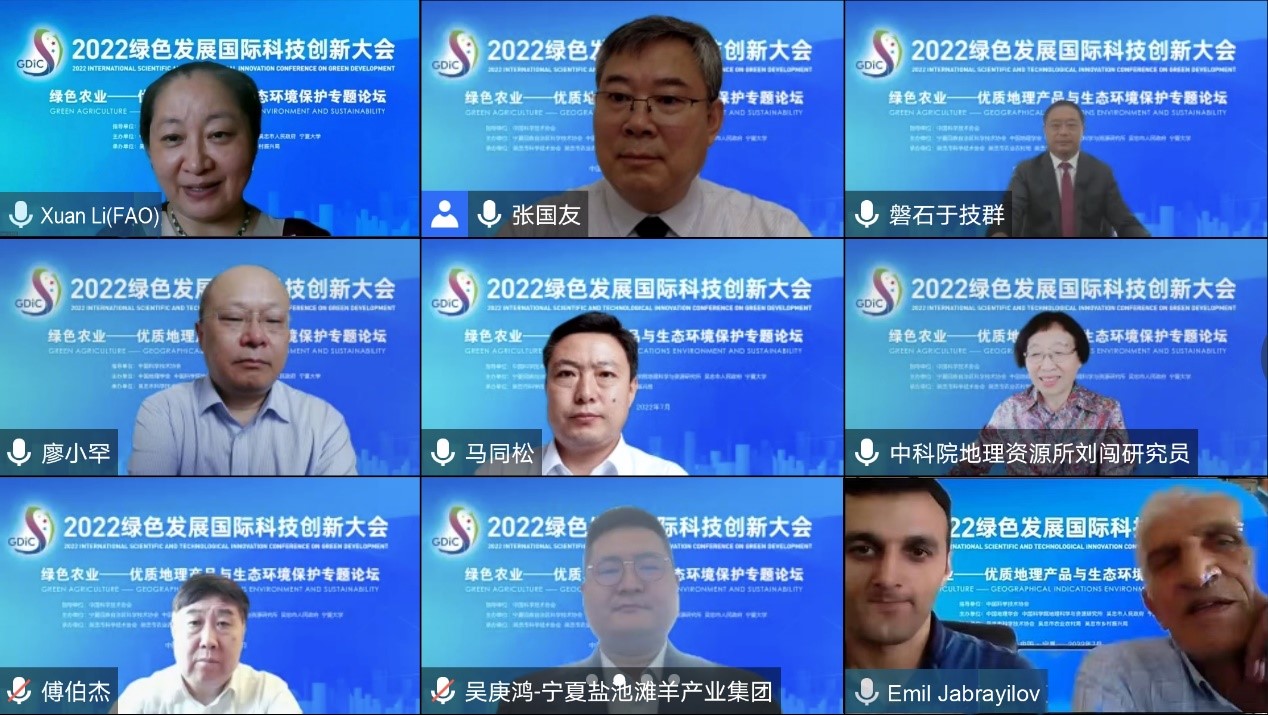 Group Picture of the Meeting on Green Agriculture - Geographical Indications Environment and Sustainability (online)
June 30th, 2022