Second Asian Young Geographers Workshop Held Online
2023-02-17 10:40:43
On December 17th -18th, 2022, the Second Asian Young Geographers Workshop was held online. Initiated by the Young Geographers Working Group of the Asian Geographical Association (AGA-YGWG), the Workshop was jointly organized by AGA-YGWG, Young and Early Career Geographers Task Force of the International Geographical Union (IGU-YECG), Working Committee for Young Geographers of the Geographical Society of China (GSC-WCYG) and Young Scientists Innovation Network of the International Society for Digital Earth (ISDE-YSIN). Under the theme "Sustainable Development and Asian Challenges", the workshop attracted over 400 participants from 28 countries and regions worldwide.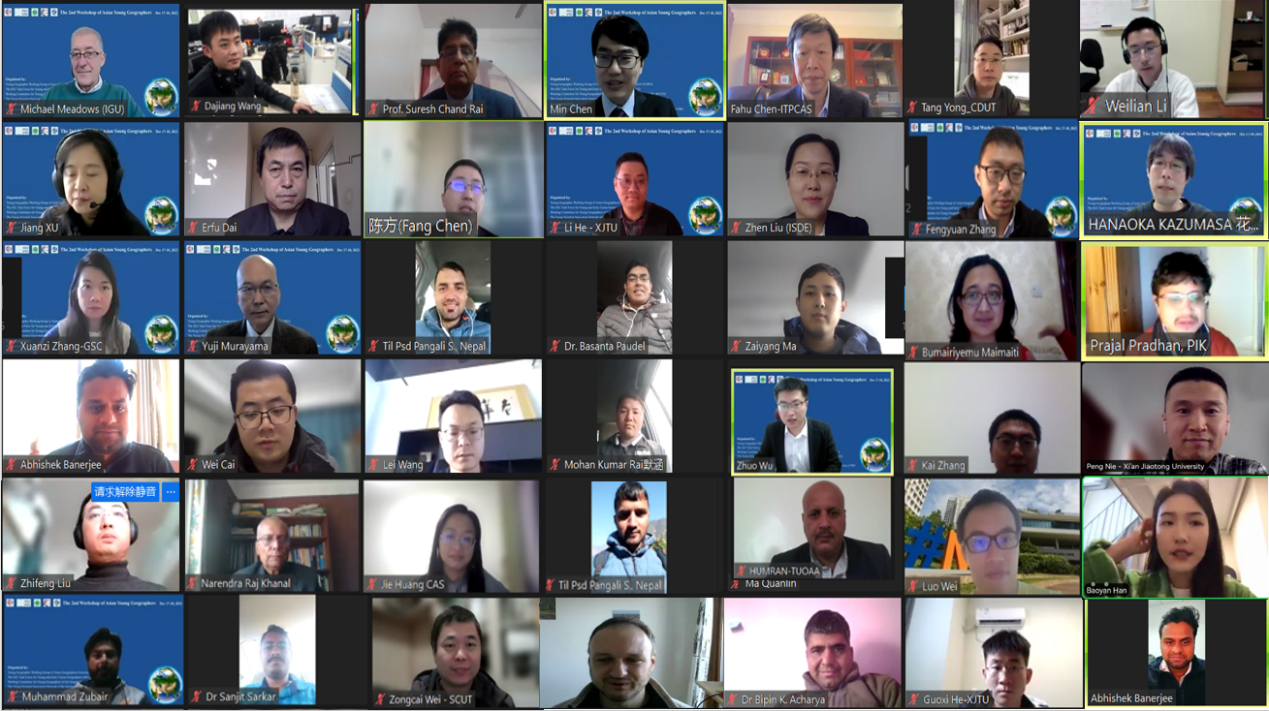 The Second Asian Young Geographers Workshop (virtual)
The opening ceremony kicked off on the morning of 17th. Prof. Min Chen, Chair of the AGA-YGWG declared the workshop open. Prof. Yuji Murayama, Vice President of the AGA, Former President of the Association of Japanese Geographers, Prof. Michael Meadows, President of the IGU, Prof. Erfu Dai, Chair of GSC-WCYG, Dr. Zhen Liu, Secretary of the ISDE-YSIN delivered welcome speeches on behalf of the organizers respectively.
The workshop featured keynote talks given by 8 distinguished geographers, including Trans-Eurasia Exchange and Climate Change along the Silk-Road by Prof. Fahu Chen, President of the GSC, Asian Geographer: Your Place in an Asia's World Journal by Prof. Jiang Xu, Editor in Chief of Asian Geographer, Mobile Phone Big Data and the COVID-19 Pandemic by Dr. Kazumasa Hanaoka, Association Professor of Ritsumeikan University, Japan, Continental Scale Mapping of Tree-level Carbon Stocks by Dr. Martin Stefan Brandt, Associate Professor of University of Copenhagen, Going beyond Sustainable Development Goals for Transformation towards Long-term Sustainability by Dr. Prajal Pradhan, Senior Scientist of Potsdam Institute for Climate Impact Research, Revisiting Transport Resilience: Finding from Travel Behavior Analysis by Dr. Jie Huang, Associate Professor of Institute of Geographic Sciences and Natural Resources Research, CAS, Digital Technologies for SDGs and DRR by Prof. Fang Chen, Institute of Remote Sensing and Digital Earth, CAS and Mountains of Asia with Focus on Development Issues in Nepal Himalayas by Prof. Narendra Raj Khanal, Past President of Nepal Geographical Society.
A total of 14 parallel sessions were organized on the afternoon of 17th and 18th. The topics covered various fields of geography, for example, collaboration and visualization in geographic modelling, climate risks and their implications for Asian societies, water resources issues, big earth data in environment management and disaster control, geospatial technology, monitoring ecosystem structure and function, sustainable tourism development in Asia, etc. Over 200 oral presentations were made in the two-day event, participants shared their latest research results and discussed the solutions in response to the challenges of sustainable development in the world, especially in Asia.
The workshop concluded on the afternoon of 18th. Prof. Li He, Secretary General of AGA-YGWG chaired the closing ceremony. Prof. Min Chen made a summary report on the achievements of the workshop and gave a brief presentation on the Working Group. Then, Prof. Guoyou Zhang, Vice President and Secretary General of the GSC announced the winners of the Excellent Paper Awards. After recommendations by session chairs first and thorough review and deliberation by the awarding committee afterwards, finally 10 papers were selected for the awards. 4 winners including Dr. Zhaoyin Liu from National University of Singapore, Dr. Muhammad Zubair from National University of Sciences and Technology, Pakistan, Dr. Sanjit Sarkar from Central University of Karnataka, India and Dr. Lingfeng He from Xi'an Jiaotong University, China were invited to give their acceptance speeches.
Initiated in December 2021, the workshop was established to serve as a new platform for young geographers in Asia and beyond to facilitate exchanges and sharing of their research, as well as to promote exchange and cooperation among young geographers, geographical institutions and associations in Asia. According to the conference organizer, with the alleviation of the pandemic situation globally, the next workshop is expected to be held offline.
Provided by Xuanzi Zhang, Min Chen, Li He
The Asian Geographical Association